Call 1-888-752-5001 for 24/7 Hazmat Cleanup services today.
Hazardous material, or "Hazmat" cleanup, occurs when harmful biological or chemical contaminants are posing severe risks to people who are in the area of the materials. Biohazard cleanup can include areas that have been contaminated by:
Asbestos
Lead
Dangerous chemicals
Trauma scene cleanup
Chemical spills
Sewage backups
Animal waste
Blood
Tear gas
Biological waste
Other materials that have been labeled hazardous by OSHA or other health regulation organizations
Don't Wait.
Most situations are covered by property/homeowner/renter's insurance. Call us today for immediate assistance.
Biohazard Cleaning Company
When a dangerous material cleanup occurs, you will need skilled professionals to provide you with safe and effective removal of biohazardous waste. Should a novice attempt to clean up biohazard waste, he or she may be unaware that they need:
Chemical spill boots
Disposable non-porous gloves
Protective suits
Filtered respirators
Access to specialized hazardous waste containers (heavy-duty bags, along with plastic boxes that can be properly sealed
Disposable buckets, clothing covers, mops, and sponges
Plenty of peroxide and bleach
A fogger machine for industrial-strength deodorizers
Solvents used to disinfect and re-liquefy dried blood
Shovels to move bodily fluids that have coagulated into appropriate bags
Putty knives to remove organic material from hard surfaces
Razor blades or box cutters to remove saturated carpeting or upholstery
Long-reach cleaning brushes and ladders to reach high walls and ceilings
Hazmat cleaners are required to keep their vaccinations up-to-date to fight against infections such as COVID-19 and Hepatitis B. Professional hazmat cleaners often use a camera to take before and after photos of the cleanup area for insurance purposes.
Blood Spill Cleanup
When blood-borne pathogens, tissues, or bodily fluids must be cleaned and removed, the materials need to be contained, removed, and disposed of accurately. The scene must be decontaminated, disinfected, and cleaned for the safety of all who are currently in the space or will be in the area. This type of biohazard takes place when a crime, accident, death, or suicide occurs.
Hazardous Waste Cleanup
Often, when hazardous chemical or biological contaminants are uncontained, hazmat cleaning must occur. In most cases, it is prudent to call on professional hazmat cleanup technicians to remove the waste under OSHA and public health regulations.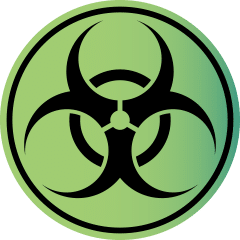 Chemical Cleanup
According to the American Chemical Society (ACS), all hazmat remediation is different. But the necessity of using professionals to respond to a chemical spill cannot be more critical. From planning how to clean the spill to using the proper equipment, professionals like those at Bio Recovery will reduce costs that exist due to injury, dollars, job security, pollution, and pride.
The ACS suggests that:
If a hazard occurs, use trained hazardous spill responders and do not downplay the seriousness of the spill.
The people who use the chemicals need to determine the hazard level of all chemicals used.
Chemical properties of most concern include:
High toxicity
Flammability
Corrosion
Reactivity to water or air
Don't Wait.
Most situations are covered by property/homeowner/renter's insurance. Call us today for immediate assistance.
Hazmat Cleanup Companies
When you choose the biohazard company you need for a hazardous material cleaning, keep this checklist in mind:
Be sure that the biohazard company you pick eliminates, rather than merely deodorizing, the source of offensive odors.
Know that the company is going to remove and dispose of permanently contaminated materials.
Ascertain whether or not the company will clean and disinfect the car, boat, RV, or fleet vehicle to ensure they can be titled a "biohazard vehicle."
Once a professional team cleans the vehicle, the establishment, or the home, you will know with assurance that the surfaces are clean through and through.
Cleanup Costs
When potential clients call our offices, they usually have one question in mind. They wonder who pays for the cleanup. These are the steps that typically follow:
We ask questions about the condition of the property and the nature of the event.
We come up with a preliminary estimate based on our years of experience in hazmat cleanups.
Our team likes to take a look at the scene to determine the damage that the untrained eye may not see.
We will explain that estimates depend on issues such as:
Is the property a scene of a death or suicide?
How much time passed between the event and the discovery of the traumatic incident?
Is the job based on an industrial accident?
Are the hazards non-traumatic pathogenic contaminants?
What equipment, vehicles, dumpsters, and materials will we need to complete the cleanup?
All these variants play into the final cost of the job.
Many times, insurance companies will pay the bill for biohazard cleanup. At Bio Recovery, we will work with the claims department on your behalf. We can help you navigate the waters if you prefer to take that route.
If you are a tenant, it is the responsibility of your landlord's property insurance to pay for the damage, or at least pay the part your renter's insurance does not pay.
We can also help with Victims' Assistance Funds.
Call Bio Recovery
Contact us when you need assistance in facing and recovering from a hazmat cleanup. We know what to do.
Click here for other Biohazard Cleanup Services.